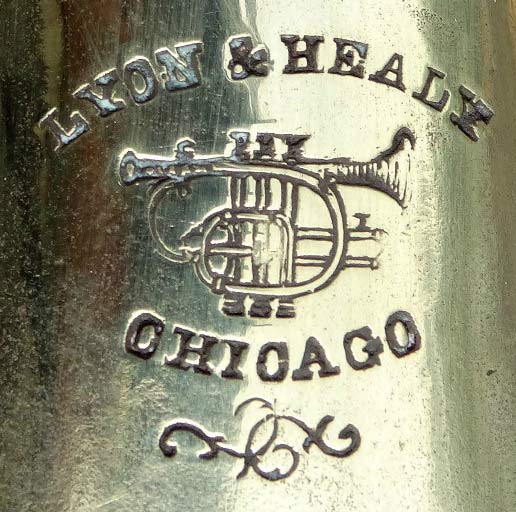 Lyon and Healy was established as an outlet for Diston instruments, and eventually dominated retail mail order instrument sales in the US. Oliver Ditson (began business in Boston in the 1830s) helped start the John Church Co. (Cincinnati 1865) and the John C. Haynes Co. (Boston 1865) to mfr. instruments. Ditson established outlets in New York and Philadelphia for his music publishing business. The third outlet in Chicago (1864) started by a Ditson employee and another clerk from Boston became Lyon and Healy.

Lyon and Healy were in business in Chicago from 1864-1940. They were an outlet for Ditson (not Distin) instruments. They had a complex network of suppliers and sub-contractors. The company is known to have had John C. Haynes (woodwind manufacturer) as a silent partner. It might very well have also had a similar arrangement with Distin. The company began manufacturing musical instruments in 1885. The earliest reference comes in the Music Trade Review in 1891 where they assert they are manufacturing instruments.

1892 sources document that the company survived 4 different fires. Two were minor fires, and two destroyed the companys records.

In 1896 the Lyon & Healy factory for the manufacture of Lyon & Healy Own Make Band Instruments was established.

They actually manufactured instruments from 1923-1930. The 1923 - 1930 manufacturing dates probably refer to the Couturier plant in LaPorte, Indiana. E.A. Couturier went into receivership in Oct. 1923. L&H bought the plant and patents and made brass instruments and saxophones there until April 1928 when they sold the equipment to Holton and got out of the manufacturing business, including guitars, and everything else except for harps. After that, they just stenciled horns.

They used a bunch of trade names, including: American Climax, American Conservatory, American Professional, American Star, Artiste, Champion, Henri Gautier, Inspiration, F. Jaubert, La Porte, New Champion, Universal, and Viruoso.




George Washburn Lyon: 1825-1894; born in Massachusetts and worked for Oliver Ditson in Boston before being chosen to start the dealership in Chicago; retired in 1889 and bought out by Healy.
Patrick Joseph Healy: 1840-1905; born in Burnfort, Ireland; emigrated to Boston in 1850; worked as clerk for Ditson before being chosen to start the dealership in Chicago; errand boy for Ditson in 1854
James E. Healy: 1866-?; son of PJ born in Chicago; worked for L&H from at least 1885-1900
Paul J. Healy: 1867-?; son of PJ; president of L&H 1911-1915
Marquette A. Healy: 1883-?; son of PJ; Vice-president & GM of L&H by 1916; President 1921-1925
Columbus Healy: 1891-?; son of PJ; vp in 1923; executive in paint factory by 1930
1864 Lyon & Healy opens in September; 104 S. Clark St.
1867 now at 116 Washington St. (corner of Clark, same bldg.)
1870 move to 96-100 Wabash Ave; fire destroys store in Sept. 1870 move to 150 S. Clark St. after fire
1871 store destroyed in great Chicago fire; some records saved; temporary stores at 287 W. Madison St. then Wabash Ave. church at corner of 16th St.
1872 new store at 162 State St. in October
1876 music dealer Julius Bauer is also listed at 162 State St.
1878 Catalog has rotary and piston-valved instruments with some PV made in Paris by un-named maker
1880 now selling high-quality French made Henry Gunckel instruments as well as mid-quality by F. Jaubert & Co. of which L&H recently secured all US sales
1892 store at 156-162 State St.; PJ Healy, pres; Charles Post, vp; R. B. Gregory, tres; J. E. Healy, assistant tres; J.P. Byrne, sec; factory at W. Randolph & Bryan St.
1894 store moves to Wabash Ave.; catalog shows that they are selling high quality Higham instruments from England, French Jaubert & Co., German piston valve economy models, and a new model of French made Beau Ideal brass which is second only to Higham in cost. They also list the "Solo Cornet" as an important addition

1896 establishes "Own Make" brand of instruments

1897 brass instrument models from lowest to highest quality were German pistons, L&H Silver Piston, F. Jaubert, French piston, Beau Ideal, & Higham

1900 store at 199-205 Wabash Ave.; James Healy is no longer the assistant treasurer; factory at same location

1901 catalog shows brass instrument models from lowest to highest quality as Silver Piston, Champion (European), Beau Ideal (French), F. Jaubert, Solo Cornet, Own Make, and Duplex Own Make

1905 Patrick Healy dies; John Haynes (instrument maker for Ditson) is one of the pallbearers; production begins on the Own Make Duplex cornet model

1910 R.B. Gregory is pres; J.F. Bowers, vp; 199 Wabash Ave; factory at 1420 W. Randolph
1912 catalog shows brass models from lowest to highest cost as Champion Silver Piston, F. Jaubert, Beau Ideal, American Professional, American make Solo, American make Duplex

1914 new factory at 4100 Fullerton Ave.

1916 new store at #243 S. Wabash Ave opens in May; Robert Gregory, pres; James Bowers, sec

1919 ad says that they are manufacturers of band instruments& bugles

1923 M.A. Healy, pres; Columbus Healy, vp; C. R. Fuller, sectres; branch stores at 1018 E. 63rd St & 4648 Sheridan Rd.

1924 bought the E. A. Couturier instrument company in LaPorte, Indiana

1925 new president Durham ends all instrument production in Chicago except harps

1929 sold the Couturier company to Holton; end of any brass instrument production
Lyon & Healy Bell Inscriptions & Models
| | |
| --- | --- |
| Early RV brass w/shield, 1860s & 70s? | |
| 1870s? w/name & scroll below | |
| 1870's RV cornets, name w/scroll & PV cornet | |
| Henry Gunckel, Paris, c.1880-before 1894 | |
| F. Jaubert & Co, Paris, c.1880-after 1912 | |
| Higham, England, before 1894-before 1901 | |
| Beau Ideal, French, 1894-after 1912 | |
| Solo Cornet, made ?, 1880s-after 1901 | |
| Silver Piston, import, c.1895-before 1912 | |
| Own Make, US, after 1897-? | |
| Own Make Duplex Cornet, US, c.1900-? | |
| Champion, European, c.1896-before 1912 | |
| Champion Silver Piston, possibly new in 1912 | |
| American Professional, US made, before 1912-? | |
| American Climax, US made, after 1912 | |
| Inspiration, after 1912 | |
| Henri Gautier Virtuoso, Austria (B&F), after 1912 | |
| LaPorte, Couturier factory, 1924-1929 | |
| Early and late Beau Ideal markings. The stamped script "Chicago" with the curl at the end appears onseveral models starting in the mid-1890s and is shown in their catalogs from 1901 & 1912. | |
| The "Solo Cornet" early & late markings. | |
| Silver Piston & Champion Silver Piston | |
| Later Champion markings | |
| Own Make models use a logo based on Healy's signature.By 1912 they were called "American Make". | |
Music Trade Review 1905 41 14 43

Lyon & Healy-Sherman-Clay Deal.

An Alliance Formed Whereby Sherman, Clay & Company Are to Represent the Lyon & Healy Output Upon the Pacific Coast. The California House With Its Splendid System of Sub-Agencies Will Hereafter be the Authorized Depot for Lyon & Healy Wares.

One of the most important moves of the year was consummated by Messrs. L. S. Sherman and P. T. Clay, representing Sherman, Clay & Co., and the principals of Lyon & Healy, upon a recent visit to this city.

An alliance was formed by which Sherman, Clay & Co. will hereafter push all Lyon & Healy products upon the coast, and Lyon & Healy will turn over to Sherman, Clay & Co. all orders for their goods from that territory and the wants of the dealer can be supplied by them upon as advantageous terms as can be obtained in Chicago. This latest move makes it possible for a great duplicate stock of Lyon & Healy's goods to be kept upon the coast. The advantage of this departure to every dealer in that territory is obvious. Sherman, Clay & Co. with their magnificent record for "doing things" will undoubtedly largely increase the sale of Lyon & Healy goods. Their system of sub-agencies will make it possible to reach the local dealer at the smallest possible expense. At the same time they will reap a great advantage from having a safe and sure base of supplies for musical goods of the highest quality. While Sherman, Clay & Co. will give their attention to the entire line of Lyon & Healy's products, they expect to begin at once a special campaign on behalf of the Washburn mandolins, guitars and banjos; the Lyon & Healy harp; the Lyon & Healy "ownmake" band instruments, including the new clarionets; Lyon & Healy scarfs, and the Lyon & Healy pipe organs.

This is the second move of the kind inaugurated by Lyon & Healy. The first one, as everyone will at once call to mind, was the alliance between the chain of Ditson houses and Lyon & Healy. Lyon & Healy's goods are now handled from Boston by the Oliver Ditson Co., from New York by the C. H. Ditson Co., and from Philadelphia by the J. E. Ditson Company, upon precisely the same terms to the trade as from Chicago by Lyon & Healy themselves.

The purchasing power both in Europe and America of this great coalition with its new member will be very great. Clearly this avenue will be taken advantage of by every enterprising manufacturer desiring to reach the music trade. With Lyon & Healy in a position to do the buying in their permanent offices in Markneukirchen and in all European manufacturing centers, and the combined purchasing power of these great houses upon the manufacturers of the country, the prospect for moving vast quantities of goods is a most inviting one. Another feature which will develop, following this ideal system of distribution, will be national advertising of the Lyon & Healy products upon a larger scale than ever hitherto attempted. Magazines and other mediums of general circulation may be now used with no loss of pulling power, since every reader can obtain the Lyon & Healy products within a few hours, and at the minimum cost for transportation.

This arrangement is to go into effect as soon as room can be made for the new stock, and Mr. Sherman said before leaving for the West that the initial order would probably be the largest one for this class of merchandise ever placed.