Conn
Elkhart, IN

USA

1876-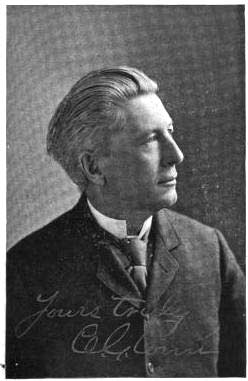 Charles Gerard Conn (b.1844 d.1931) was a bandsman during the Civil War. After the was he established a grocery/bakery, and played in a community band.
1844 - Charles Gerard Conn born (1844-1931).
1871 - Leader of the Buchanan MI town Band. Injured his finger, so had to switch concentration from violin to cornet
1874 - His entrance into the instrument manufacturing world came after he sustained a lip injury and designed a mouthpiece rimmed with rubber.
1875 - moved from above Kibbes Drug Store at 22 Jackson St to the upper story of McGregger & Sons old woolen mill behind the post office. Obtained patent for his mouthpiece.
1876 -In partnership with Eugene Dupont Eugene Dupont (1832-1881), an inventor and a former employee of Distin when his shop was in London, started instrument manufacture in Elkhart. They obtained a patent for the Four in One model, Conn-Dupont model (Eb/C/Bb/A).
1877 - He purchased a factory at Elkhart Ave and East Jackson when he had outgrown the back of his grocery
1879 - The partnership with Dupont was dissolved.
1880 - Conn was elected Mayor of Elkhart.
1883 - Factory burned down, he built his second factory on the same site.
1884 - The title of Colonel, came from the 1st Artillery Regiment of the Indiana Legion which he organized.
1885 - He began to offer French made flutes and clarinets. Between 1888 and 1892, Conn phased in his own woodwinds.
1886 - Wonder model introduced Purchased Fiske Plant in Worcester MA. Instruments made between 1887-1897 usually referenced both locations.
1888 - Introduced his American made saxophones, and started making flutes, piccolos and clarinets
1889 - Conn founded the Elkhart Truth newspaper.
1891 - introduced a profit sharing plan
1892 - Conn was elected to the Indiana House of Representatives
1895 - purchased Washington (DC) Times
1897 - New York store opened
1898 - first commercially available rain-catcher. Phased out Worcester plant in 1898. The label was continued until 1900.
1900 - New York Wonder (1900-2) came with different markings some for Elkhart, New York, and Worcester
1901 - patented Con-Queror
1902 - New York Store relocated and no longer were labeled New York
1904 - Company was incorporated
1905 - S Cornet Perfected Wonder introduced (used into the 1950s in Pan AMs)
1906 - began to exclusively use Union labor and instruments made between 1906 and 1916 bear a union label.
1910 - Jackson St Factory burned down. He built his third factory at Conn and Beardsley Avenues. Musical Truth advertises New Trombone Slide Locking Device.
1911 - New Invention Circus Bore line was introduced.
1909 - Wonderphone (design model for the Director)
1915 - Conn retired and sold out to a group of investors led by Carl D. Greenleaf (1876-1959), which included most of his holdings, renamed the company CG Conn Ltd. The Labeling horns LTD began. Greenleaf noted the waning of community bands and the large professional concert bands and therefore focused company efforts on promoting school band programs. And, he transitioned the company from being a mail order company to one with dealerships. Greenleaf ran the company until 1949.
1917 - Pan American Line started for school market. Workforce increased to 550, making 2500 instruments per month using hydraulic expansion process. 1
1919 - Numerical Model designations were started
1923 - Established Continental Music, Elkhart Band Instrument Company, established the first National Band Contest, established Conn National School of Music in Chicago headed by trombonist Frederick Innes
1924 - Conn opened a number of branch stores including Conn of Boston. When Conn of Kansas City opened also of that year it was the 13th branch store.
1925 - Continental Music Company - Mail order company started, located in Chicago and New York. 2 Begun as a wholesale division of its Chicago retail store. Continental instruments are apparently re-branded Pan American models. 3 Bought Elkhart Band Instrument Co.
1926 - Conn of Boston began selling Conn instruments under the name of Commonwealth.Conn
1927 - purchased Leedy Percussion. Continental opened in San Francisco.
1928 - Established National Music Camp at Interlochen MI, established the Experimental Laboratory
1929 - after the stock market crash, Conn was able to purchase other companies Ludwig and Ludwig, Carl Fischer's Instrument Department,
1931 - Cavalier line started under Pan American 4 and were marketed through Chicago Musical Ins Co,, Continental (Chicago, New York, San Francisco, Tonk, Bruno, Jenkins, and Southern California Music Co. C.G. Conn in California died nearly penniless.
1932 - the wireless and rimless Vocabell introduced.
1934 - Short action valves were introduced.
1936 - Stroboconn introduced
1938 - Coprion bell introduced
1942 - Discontinued the manufacture of instruments for civilian use
1946 - returned to instrument production- though it was hampered by a strike from Oct 1946 to Feb 1947.
1949 - Carl Greenleaf retired, succeeded by Paul Gazlay (1897-1966). During his tenure, all subsidiary companies were absorbed or sold.
1955 - Discontinued Pan American, and incorporated the student models into the Conn brand.
1958 - Lee Greenleaf(1904-1978) became president.
1959 - bought Artley Co to make flutes and piccolos, built an Organ factory in Madison IN
1960 - Introduced the Fiberglass sousaphone, Pan American moved to Nogales, AZ
1963 - built a new plant in Elkhart Industrial Park for Arley
1964 - bought Janssen Piano company, and the Sherl and Roth Company to make stringed instruments
1969 - the company was sold to Crowell-Collier MacMillan Company (book publishers),they moved the headquarters from Elkhart to Oak Brook Ill. Student brass and guitars were made in Japan. The reed manufacture was moved to Nogales, AZ, Selmer bought the brass factory in Elkhart.
1972 - Brass production was moved to a former Reynolds plant in Abilene, Texas. At least some of the instruments made in Texas were of inferior quality. 5
1980 - The company was sold to Daniel Henkin, He brought the headquarters back to Elkhart.
1981 - bought the Armstrong Company
1983 - bought the King Company
1986 - The company was sold to Skane Fripen and created Unite Musical Instruments - and closed the Abilene Texas plant, moving some operations to the old King plant in Eastlake, OH.
1987 - Brass manufacture was moved to Nogales, Mexico.
2000 - UMI was purchased by Steinway Musical Instruments.
2003 - UMI assets were merged with the Selmer Company to form Conn-Selmer under Steinway Musical Instruments.
---
Contribute new Data (or Corrections): (Please use the forum for discussions, questions, etc.)