| | | |
| --- | --- | --- |
| | 305 | |
Instruments
Hutchins Instruments
Charles W. Hutchins
Springfield MA

USA

1896-1907

1860 born in Greenfield, Mass.


1870 Moved to Springfield.

1881 married Carrie E. Hanson (they had 3 children)

1882 John Heald is granted patent #265,498 for a water key with thumb lever (photos right, #5066) with assignor to Hutchins so Heald must have been working for him. Other sources say that Heald was his forman from 1883-5.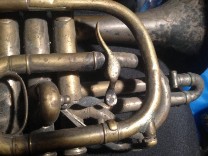 1883 granted patent #274,608 for a bottle stand; made presentation bugle serial #5090 (photo left; this sold in 2008 for $4,000);

1883 Heald granted patent in October, it is not assigned to Hutchins so perhaps on his own by then.

1885 granted patent #319,907 for book & music holder and assigned to Edwin Barr

188? Trombone (bottom photo) is marked 'Hutchins American Improved Artist's Model, Deerfield, Mass.'

1893 granted patent #490,564 for a tuning peg for stringed inst.


1896 Hutchins Manufacturing Co. was organized on Aug 12th with C.W. Hutchins, general manager; F. Edwards,treasurer; Charles H. Parsons, president

1897 granted Canadian patent #54,507 for aluminum mandolin as well as US patent #575,425 for tailpiece & guard; Music Trade Review has article about the aluminum mandolins now in stock and starting to sell, they had plans to build guitars, drums & zithers as well, dealer M.P. Conway was selling them; it was said that he had run a band instrument factory for ten years and had contemplated making them from aluminum but a more practical use was for stringed instruments. Also sold bodies to Merrill. He discontinued making brass instruments prior to going out of business.

1903 The Fletcher Aluminum Co. and the C.W. Hutchins Mfg. Co. were combined under the Fletcher Aluminum Novelty Co. to make specialty signs and advertising. Hutchins was used for printing on aluminum.

1907 act to dissolve the Hutchins Mfg. Co.
1926 Hutchins died in Springfield


Timeline constructed by Jon Patton

---
Contribute new Data (or Corrections):

Information posted here will be added to this page.

This is not the place to ask questions, as users will only occasionally visit a particular Maker's
page. Pease use the forum to ask questions or talk about your instrument.
(Please use the forum for discussions, questions, etc.)